31 Jul

Omo valley tours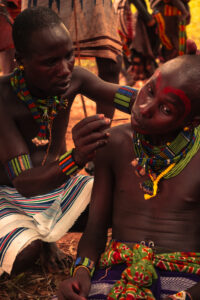 The Hamer tribe is an ethnic group that resides in the Omo Valley in southwestern Ethiopia. They are part of the larger Omotic-speaking group of tribes in the region. The Hamer people have a distinct culture and are known for their unique traditions and customs.
One of the most prominent aspects of Hamer culture is their elaborate ceremonies and rituals. The most well-known of these is the "bull jumping" ceremony, which marks the transition of young men from adolescence to adulthood. During this ceremony, a young man must successfully jump over a line of bulls that have been lined up side by side. This is a test of strength and agility, and success in the ceremony is seen as a rite of passage.
Another important aspect of Hamer culture is their unique hairstyles and adornments. Women in the tribe wear their hair in a distinctive style called the "hanging hair" or "goat horn" style, which involves braiding the hair and covering it with a mixture of red ochre and butter. They also wear colorful beadwork and metal jewelry as a form of decoration.
The Hamer people are primarily pastoralists, and their livelihoods revolve around cattle herding. They live in small villages made up of huts made from mud and thatch. The men are responsible for herding the cattle, while the women take care of household chores and agriculture.
Despite modern influences, the Hamer people have managed to preserve their traditional way of life to a large extent. They continue to practice their unique customs and maintain a strong sense of cultural identity. However, like many indigenous groups, they face challenges such as land encroachment and the effects of climate change on their traditional livelihoods. Join one of our groups in the coming August and September.