31 Jul

Danakil depression tour via Semera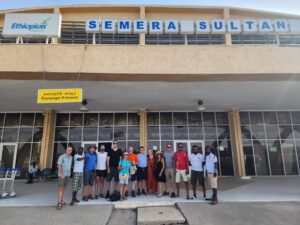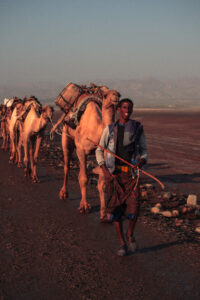 The Danakil Depression is a unique and fascinating destination in Ethiopia, known for its otherworldly landscapes, colorful mineral deposits, and unique geological features. One popular route to reach the Danakil Depression is via the town of Semera. Here's a suggested itinerary for a Danakil Depression tour via the Semera route:
Day 1:  fly Addis Ababa to Semera
– Start your journey from Semera. Semera to Lake Afrera
– After breakfast, continue your journey towards Lake Afrera.
– Drive through the rugged Afar region, enjoying the unique landscapes along the way.
– Arrive at Lake Afrera, a saline lake known for its beautiful turquoise color. And proceed from Lake Afrera to Erta Ale
– Hike to the summit of Erta Ale, which involves a challenging trek over rough terrain.
– Reach the summit and witness the mesmerizing sight of the lava lake inside the volcano.
– Set up camp near the volcano and spend the night.
Day 2: Erta Ale to Dallol
– Descend from Erta Ale and drive to Dallol, another highlight of the Danakil Depression.
– Explore the colorful hydrothermal fields of Dallol, with their vibrant mineral deposits and unique rock formations.
– Marvel at the salt formations, acid lakes, and sulfur springs in this surreal landscape.
– Set up camp near Dallol and spend the night.
Day 3: Dallol to Semera
– After breakfast, start your journey back to Semera.
– Drive through the Danakil Depression, taking in the breathtaking scenery.
– Arrive in Semera and fly back to Addis Ababa.